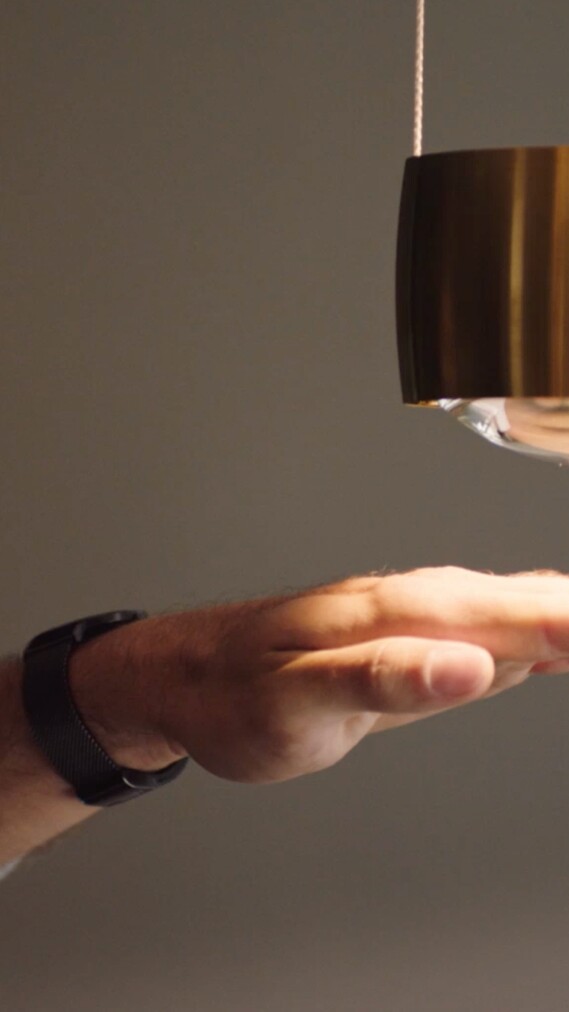 Intuitive gesture control
With a single hand movement: switching and dimming
With a simple gesture you can control all the features of the Mito, Mito linear, Gioia, Taglio, Sento and io luminaire series. A brief movement is all it takes to turn the light on or off. If you hold your hand next to the luminaire for longer, it dims up and down, adjusting perfectly to the different stages of daylight and to your personal requirements.
Learn more about »dimming«
Designing with gestures: controlling the light in your room
Gesture control allows you to switch quickly between uplighting and downlighting. To facilitate this, luminaires are equipped with a double-sided light output, each with separate LEDs that you can control independently and whose brightness you can continuously fade up or down. A single gesture is all that's needed to draw the light up or down.

As a result, you can change the ambience of a room whenever you like: downlighting allows you to directly illuminate selected areas, while dimmed uplighting creates an ambience reflective of your mood.
Learn more about »up/down fading«
Always the perfect ambience: changing the color temperature
The lighting that makes you most comfortable depends on your mood and the time of day. During the evening, you can relax with warm color temperatures of 2700 kelvins, while light at 4000 kelvins stimulates the mind. You decide which color temperature you want, and when.
Learn more about »color tune«