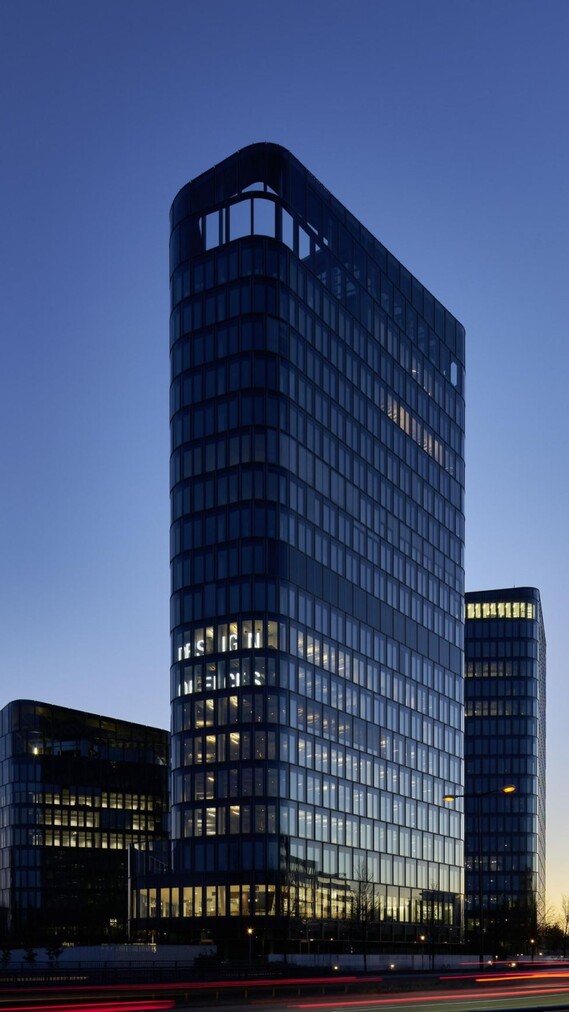 In Munich's Bogenhausen district, the Bavaria Towers are a modern architectural ensemble, bringing together a new generation of offices and hotels. In the tallest of the four towers, co-working space provider Design Offices has moved into a total of seven floors to offer a new way of working in line with state-of-the-art standards. The notion of maximum versatility, inherent in the office design, was also the benchmark for the Occhio lighting concept.

The flexibility of the lighting design essentially results from a track system that creates harmony with the trapezoidal layout of the building while also responding to particular requirements and circumstances.

Entstanden ist ein stringentes Schienenraster, das sich vom Mittelpunkt des Towers aus strahlenförmig in den einzelnen Geschossen verteilt. Das flexible Beleuchtungskonzept erstreckt sich über die gesamte Fläche von 9.000 qm und wird vor allem durch die Leuchtenserien Mito, Mito linear und Più abgebildet. Den strengen Budgetvorgaben konnte durch intelligente Lichtgestaltung begegnet werden.

Occhio's Services im Projekt – von der Lichtgestaltung über die Projektabwicklung bis hin zur finalen Abnahme – kamen bereits insgesamt bei fünf Standorten von Design Offices zum Einsatz.
Perfekter Match: Design Offices gestaltet mit Occhio New Work auf höchstem Niveau
Moderne Arbeitswelten zeichnen sich durch flexible Arbeitslandschaften aus, in denen perfekt designte Arbeitsplätze für das Ambiente ebenso wichtig sind wie Akustik, Luft und Licht. In Occhio fand Design Offices einen starken Partner für die Lichtgestaltung seiner Räume. Bereits an fünf Standorten des Anbieters innovativer Corporate Coworking Spaces verwirklichte Occhio Lichtlösungen – unter anderem in München, Nürnberg, Düsseldorf und Leipzig. Bei der ganzheitlichen Umsetzung des umfassenden Lichtkonzepts begegnet Occhio den Budgetvorgaben mit intelligenter Lichtgestaltung und setzt neue Maßstäbe in Sachen Design und Lichtqualität.
Munich Design Offices Munich
Year of completion: 2020
Architecture: Nieto Sobejano Arquitectos
Luminaires: Mito sospeso, Mito soffitto, Mito volo, Più R alto, Più R alto 3d
Photos: Christoph Philadelphia
Lighting design: Occhio
Text: Barbara Jahn-Rösel